Future events
While we are still working out when and how we can start back with our regular indoor meetings, the committee of Marlay Guild are organising some events for members.
Members will be notified about upcoming events via text message and here on the website.
Wednesday Walks in Marlay Park
Walking around Marlay Park. Meet at 10:45 in front of the house at Marlay, every Wednesday.
Tuesday Walks on more challenging routes
A group of walkers are planning to meet up for more challenging walks, generally of about a 2 hour duration. For more information, contact Rachel Gillen.
25th November 2021 – An Grianan
Trip to An Grianan for the Christmas One Day Demonstrations – always a fun day out. Costs of €65 covers tea/coffee & scones on arrival, Traditional Lunch, High Tea before departure and Seasonal Demonstrations for all to enjoy. Transport costs not included; we are organising a bus. We will of course be following any government guidelines. For more information or to book, contact Liza Toye.
2022 – International Night
The country selected this year is Canada. On the night we will have a baking competition of homemade cookies or biscuits using maple syrup, so get practicing!
Yoga with Helen
Yoga started back on 30th September. There are three classes each Thursday morning.
October – Picnic in the Park
On 14th October, the group met in Marlay Park for a picnic.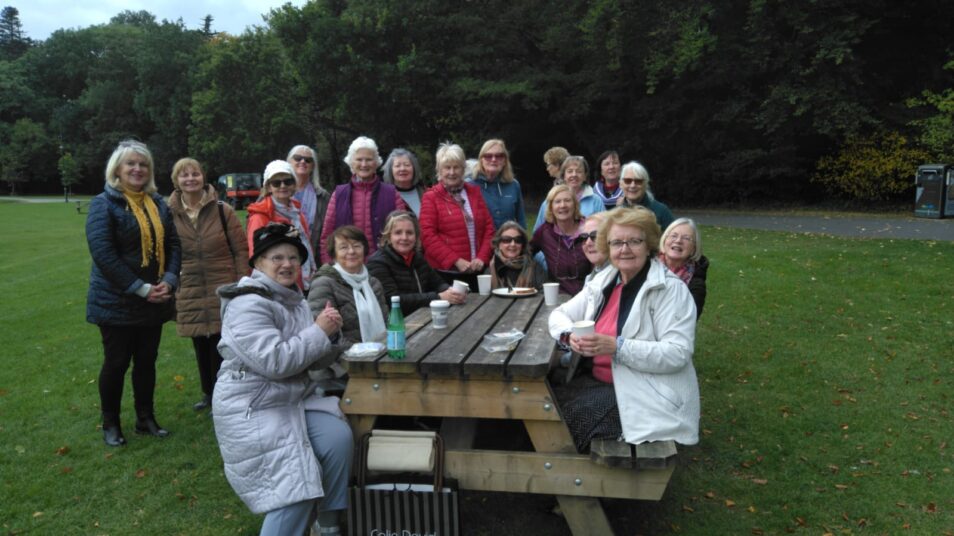 October – Nordic Walking in Kilruddery
On 13th October, one group went on a Nordic Walk with a very experienced and interesting instructor, another group enjoyed the the beautiful gardens of Kilruddery House.
September Zoom talk
Cathy Scuffil, Dublin Historian gave us a really interesting talk about Alderman Michael Flanagan, who owned or had an interest in much of South Dublin from the 1830s to the 1930s.
September Meet and Greet in Marlay Park
An outdoor "meet and greet" coffee morning in was held on 9th September in Marlay Park. Around 40 members attended.