WHAT THE BOOK CLUB READ this Year 2016-17
**************************************************************************
Thursday 20th April 2017
"The Children Act" by Ian McEwan
**************************************************************************
For the 16th March 2017 Book club , members had their own choice of either of these two books
The Tea Planter's Wife  a novel by Dinah Jefferies
or
 Molly Keane 'A Life' by Sally Phipps
**************************************************************************
Thursday 16th February 2017
'A Man called Ove' by Fredrik Backman
***********************************************************************
Thursday 19th January 2017
'Days Without End' by Sebastian Barry
**************************************************************************
Thursday 17th November 2016: 

'The Underground Railroad'
by Colson Whitehead
**************************************************************************
 Thursday 15th September 2016 thru Thursday 20th October 2016:   'The Lesser Bohemians' by Eimear McBride
**************************************************************************
Some reviews of books read last year :
Marlay Guild I.C.A. Book Club  April 2015
The Girl on the Train by Paula Hawkins
(reviewed by Mary McSweeney)
Rachel Watson, a hard drinking divorcee, is at first glance a conventional crime – fiction protagonist, but while Rachel, the main narrator of Paula Hawkin's bestselling debut, The Girl on the Train, does turn into an amateur sleuth, she is anything but a cliched investigator.
Sliding into alcoholism in the wake of her divorce from Tom, Rachel is an idealist who creates a fantasy life for Scott and Megan, a married couple she spies on from her commuter train every morning.
The thing that gives Rachel's fantasy a poignant turn is the fact that Scott and Megan live a few doors down from Rachel's old home, where Tom, with whom Rachel remains obsessed, now lives with his new wife Anna, and their baby, a poignancy that is given a further twist by Megan's own account of her life which is far from idyllic.
When Megan is reported missing, the police suspect Scott. This infuriates Rachel as she knows she could prove Scott's innocence if only she could recall the details of the night Megan disappeared, which remain tantalisingly out of reach in the blur of an alcoholic blackout.
Paula Hawkins depicts the more sordid excesses of Rachel's descent into alcoholism and self -delusion yet still manages to provide Rachel's quest for truth and justice with a plausible motive.
It is a complex and increasingly chilling tale of courtesy of a number of first person narratives that will wrong – foot even the most experienced of crime fiction readers.
The Girl on the Train proved a very popular with the Club members overall though one or two members found it uncomfortable and indeed sad.
---
On  March 12th  we  reviewed  THE  MINIATURIST  by Jessie Burton
reviewed by Jean Hartin
Fascinated  by  Petronella  Oortmann's  dollhouse  which  is  on  display  in  the Rijksmuseum  in  Amsterdam  ,  the  author  created  a fantasy  tale  to  explain  why  so  much  effort  would  have  gone  into  creating  the  dollhouse.
Set  in late  17th  century  Amsterdam,  The  Minaturist  gives  a  brilliant  insight  into  Calvinist rule in  this  busy  merchant  city  with  its  underlying  culture  of  greed  &  hypocricy.
After  an  arranged  marriage  to  wealthy  merchant  Johannes  Brandt  who  is  some  20  years  her  senior,  18  year  old  Nella  arrives  from  her  rural  home  to  take  up  residence  in  Amsterdam.  The  household  is  presided  over   by  Marin,  Johannes'  frosty  sister  with  two  servants  Cornelia  &  Otto,  a  former  slave.   It  is  a  household  with  dangerous  secrets.
Johannes  is  polite  &  respectful  to  Nella  but  shows   no  interest  in  consummating  their  relationship.   He  gives  her  a wedding  gift  of  a  beautiful  cabinet  replica  of  their  home.  She  contacts  a  miniaturist  to  furnish  the  house  but  unsolicited items  are  also  delivered.  These  items  eerily  mimic  &  foretell  situations  in  the  household.
When  Johannes'  secret  life  is  revealed,   Nella  behaves  with  extraordinary  generosity   &  loyalty  which  did  leave  some  of  us  a  bit  sceptical!
Overall,  it  was  a  wonderful  read,  beautifully  descriptive  with  the  feel  of  a  good  thriller
RATING   average  3.6/ 5                                                                  ( 9 member  ratings  ranged  from  2  to  4.5 )
---
Book  Club  Meeting  February  18th  2015 reviewed by Jean Hartin
8  members attended,  with apologies from 2 others
We reviewed  NORA  WEBSTER  by Colm Toibin
It  recounts the story of  life in a rural town , Enniscorthy, in the early '60s as experienced  by the recently widowed Nora Webster, mother of four children, as she journeys from being the wife of a popular schoolteacher, through her grief,  to finally  finding contentment in her independence.  Along the way she returns to her former employment, takes an interest in union matters &  finds solace in music.
Colm Toibin  has revealed that while a large part of this book is autobiographical & written from memory,  some is fictional, but he chooses not to reveal which parts.  It tells a lot of what happened to his family when his father died when the  author  was still only 12 years old.  He acknowledges that much of the character of  Donal is based on himself.  Like Donal, he developed a stammer when his father died & he became engrossed in a hobby –  poetry,  while Donal takes on photography as a hobby.
Nora didn't allow concern for her children to  get in the way of her efforts to establish an independent life for herself.  This seems to reflect how Toibin viewed his own situation after his father died.   Several years before Nora Webster was published, he wrote a short story called Donal Webster in which the adult Donal expresses his feelings of anger towards his mother but the author's feelings mellowed over time before he completed Nora Webster.
This book is written in a restrained way, about an ordinary life with no great dramatic events.  It prompted lots of discussion about the characters particularly  Nora,  the position of Irish women in the middle of the 20th century & the political landscape at that time.
It received mixed reviews with ratings ranging from 4/12 to 9/10
---
The Club met on 19 Jan and reviewed the books they read since their last Meeting in last November.   The titles are  THE IMMORTAL LIFE OF HENRIETTA LACKS  by   Rebecca Skloot  
They agreed with the following appraisal that I found on the web by Amazon the book sellers:
Her name was Henrietta Lacks, but scientists know her as HeLa. Born a poor black tobacco farmer, her cancer cells — taken without her knowledge — became a multimillion-dollar industry and one of the most important tools in medicine. Yet Henrietta's family did not learn of her 'immortality' until more than twenty years after her death, with devastating consequences . Rebecca Skloot's fascinating account is the story of the life, and afterlife, of one woman who changed the medical world foreve r. Balancing the beauty and drama of scientific discovery with dark questions about who owns the stuff our bodies are made of, The Immortal Life of Henrietta Lacksis an extraordinary journey in search of the soul and story of a real woman, whose cells live on today in all four corners of the world.  It is a true story, harrowing, interesting and a must for anyone interest in medicine, medical research or ethics.
Our readers found this work hard to find in libraries because it can be classed under many headings. If you like medical/factual twist to your novels this is for you.
 and  about THE PARIS WIFE  by  Paula Mc Laheyin 
If you are a fan of Jazz Age Paris (F. Scott Fitzgerald or Ernest Hemingway) This is a  book you will enjoy.   It opens a window on the type of life these privileged genius lead.
With both books the readers found that they were led into reading books in similar vain.
---
OCTOBER, NOVEMBER and DECEMBER 2014
Our Book Club has picked two books for Christmas                   reading   THE IMMORTAL LIFE OF HENRIETTA LACKS                    by   Rebecca Skloot  and  THE PARIS WIFE  by  Paula McLain
Books reviewed to date
Oct  16th 2014  BIRDSONG  by  Sebastian Faulks
Sept 18th 2014. THE  GIRL WHO SAVED the KING of SWEDEN  by  Jonas Jonasson
---
  In lieu of the November meeting members had a very enjoyable visit to the DLR Lexicon Dún Laoghaire to attend a reading by Mary Costello of passages from  her debut novel  ACADEMY STREET.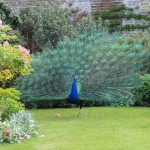 Mary was in conversation with Paula Shields as part of the DLR Mountains to Sea Library Voices Series & gave a wonderful insight into her book & especially into Tess, the main character of the  book . Afterwards Mary took questions from the audience &  signed copies of her book. 
Academy Street has been nominated for the Eason Book of the Year which is the pre-eminent category in the Bord Gáis Energy Irish Book Awards 2014.  
Also nominated are Colm Toibín, Joseph O'Connor, David Mitchell, John Kelly & John Boyne. 
 The Guild wishes to congratulate Mary Costello who won the prize with Academy Street won the EASON BOOK OF THE YEAR AWARD on November 27, 2014.
WHAT THE BOOK CLUB READ 2013-14
As Holy Thursday falls on April Book Club night & we have Jill Kirby coming to ICA on May Book Club night, 

we will not meet again until Thursday May 29th.,  when  

we will discuss  The Lives of Stella Bain by Anita Shreve at that meeting.
MARCH MEETING
Five members  attended on March 20th.  and
reviewed The Spinning Heart by Donal Ryan.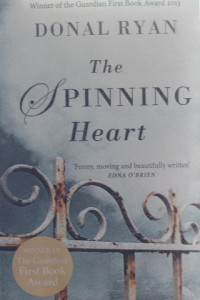 Reviews were mixed
6 people rated it, ratings ranged from 2/10 to 7/10, averaging  5
FEBRUARY MEETING
We had a very enjoyable time reviewing The Light Between Oceans by M L Stedman.      This book was a great read, received reviews from seven members:  five gave 10/10, one 9.5 and one 9.
JANUARY 2014 MEETING
We had 8 members at Book Club last night, reviewing
The Husband's Secret by Liane Moriarty
We marked out of 10 after a lively discussion, average 8.5
The book for next month is The Light Between Oceans by M L Stedman
Next meeting Thurs Feb 20th
NOVEMBER 2013 MEETING
Reading :  Never Let Me Go, by Kazuo Ishiguoro for review on November 21st.
September/October 2013 Book Club Meeting:
Reading:  "The Island" by Victoria Hislop