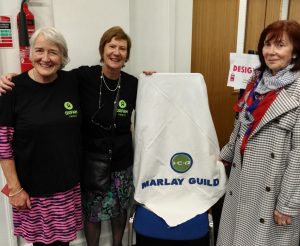 Marlay Guild helps Oxfam Fashion Fest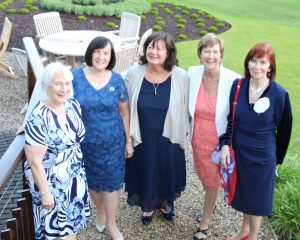 At April Meeting the Committee for the coming year was elected.      Best wishes to Rachel Gillen and the new Committee.
Rachel , like all Guild Presidents, needs your full support.   Do this by attendance at Meetings, extra activities and helping on sub-committees.  If you think you know someone who could give a Talk to our Guild, please let the Committee know.
---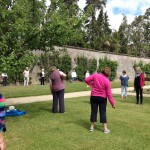 Marlay Guild during summer recess is delighted to be associated with Helen Morrow's Summer Yoga Charity Walks (details below) being held in Marlay Park and St Enda's Park alternatively.    This week on Monday 18th June its in Marlay.
What is a yoga walk and what will we do on the walk?
 While waiting for group to gather we can chat. Before we move off  Helen explains the theme of the morning.
Cultivating stilling the busy chatter of the mind by not talking for part of the walk but observing all we see, hear, feel and smell. We will find a suitable place to do breathing exercises and stretches. If possible we can sit or lie down, depending on weather and ground, we can try different types of meditation, stretch and relaxation.
Our aim is to improve our sense of well – being by connecting with the simpler things in life – fresh air, exercise, nature, friendship and our true self.
When: Monday and Tuesday Mornings and no dogs please.
Time: 10.00am meetup at carpark ; 10.15am sharp walk begins.
Walk lasts 1 to 2 hours with option for coffee afterwards yet you can leave early if necessary. Bring a friend or family member (man or woman) who wants to try outdoor yoga.  Feel comfortable about joining in at classes on any of the dates.
Cost?  voluntary contribution for charity.– (and own coffee money)
Our 25th Birthday Party held n 12th May in Grange Golf  Pavilion.    See special photos above please.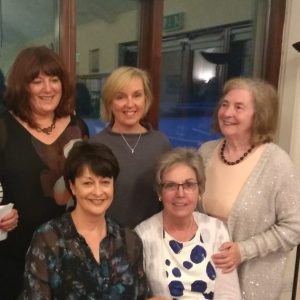 Our last evening with Sheila Hurley as President of the Guild was Thur 24th May with  FIONNUALA KEARNEY author ("The Day I Lost You" and "You, Me and Other People") as guest .  Her novels  are about love, loss and family.  Great enjoyable and interesting evening was has by all.   
Sheila has been a wonderful President for the Guild and we wish many years of enjoyment as a member of Marlay Guild.    She choose very interesting and unusual guests (take a look at the programmes for the last two years).   DLRCoCo awarded Sheila for her work to the Community through the Guild in  May2018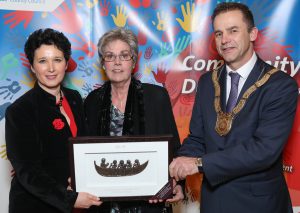 Mary Clarke Cup: "Slogan commemorating 25 years of Marlay ICA".  Judging of the Competition and Presentation of the Cup was made by the ClarkeFamily
1st Prize: Rita O'Regan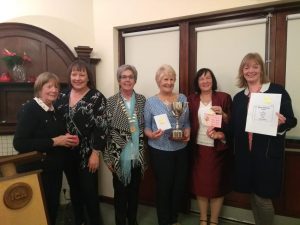 and
2nd Prize :Colette Appleby.
On Thur 12th April:    DR. EOIN O'FLYNN (Head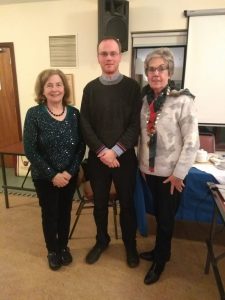 Guide) gave a talk on "Rathfarnham Castle: History and Recent Discoveries".  This proved an important evening for members interested in our local history. Following this evening Guild Members enjoyed a special visit to Rathfarnham Castle under the guidance of Eoin.   Thank you.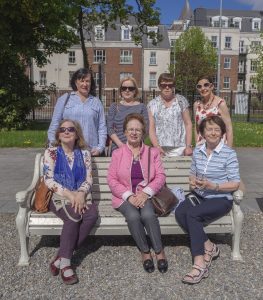 On Thursday, 22nd March, Sally Ann Flanagan, Personal Stylist at House of Fraser,Dundrum visited the guild. An evening of fashion tips, beauty advice and fun followed. On Friday, a number of Marlay ICA ladies were spotted in Dundrum Shopping Centre. I wonder why?