The Committee will make every effort to keep to this programme.   However, changes may have to be made if speakers or venues are unavailable through unforeseen circumstances
September 2016

Thursday 8th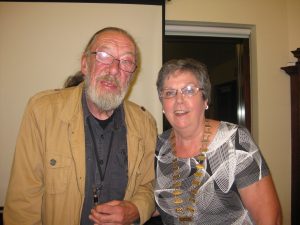 Dick Warner  author of "The Liffey – Portrait of a River"                     
Thursday 22nd   Dr Charles Hannon "Roger Casement and 1916"                                        

October 2016

Thursday 13th     Justine Prendergast  "Art with Justo"

Thursday 27th    Rodney Rice "From R.T.E to Nepal"     

November 2016

Thursday 10th   Dr Martina McBride "The impact of forensic science on crime"      

Thursday 24th   Marie O'Leary & Marie  Dodrill "A Dazzling Display"

December 2016

Thursday  8th    Our Christmas Party                  

January 2017

Thursday 12th   Sally Ann Flanagan  Personal Shopper with House of Fraser  "How to look good and not your age"
Thursday 26th   Solicitor Bernadette Parte. "Inheritance Planning"

February 2017

Thursday  9th    Padraic White  formerly of the Industrial Development Authority and, first Chairman of the Luas 
Thursday 23rd   Eric Dempsey 'The Birdman'.   Inspirational speaker and author of 8 books on Ireland's birds and National Heritage.
March 2017

Thursday 9th     Paul Hurley  Hypnotist & Author.  "The Power of Depression"

Thursday 23rd   Mick Heaney  Journalist and Radio Columnist for the Irish Times and, son of Seamus Heaney.  "My father's famous last words"                 
April 2017
Thursday 6th     Eric Luke   Photographer for the Irish Times."The man behind the camera"       

Thursday 27th   Our International Night  : France                                                                              

May 2017     

Thursday 11th    Our AGM   and Mary Clarke Trophy  

Thursday 25th   Anne Russell Actress & Public Speaker   "Public speaking and Presentation"

___________________________________________________
ACTIVITIES and OUTINGS         
Crafts                     Monday 10.30 – 12 noon
Book Club            Monthly Meeting – third Thursday 8-9pm
Yoga                        Wednesday 6 and 8 pm
                                   Summer Yoga 2017 Programme
Outing                   Birdwatching event with Eric Dempsey
                                   Saturday 13th May 2017
Outing                  Guild Outing to Kilkenny Saturday 25th March 2017

Dail visit              Visit to The Dail Tuesday, 28th March.
First Aid              Course may be Starting in March 2017
                                 (TBC depending on interest)
Craft Day            Saturday 18th February 2017  "Art with Justo"
Christmas Floral Demonstration Thursday 24th November 2016

                                 Charity Night  in aid of  Brother Kevin Crowley
Outing                  Shopping Trip to Kildare Outlet 
                                   Saturday 12thNovember 2016
Card Making      Cards by Di Ryan
                                    Saturday, 5th November 2016, 10-1pm
City Walk             City Walking Tour
                                   with Liz Gillis, Sat. 22nd October 2016, at 10 o'c
Outing                   National Ploughing Championship   
                                   Wednesday 21st September 2016

An Grianan         Brochure is at this Link http://marlayguildica.com/wp-content/uploads/2017/02/AnG_PROG_2017.pdf
Guild Outings    See Above for details

Access to ICA National and Federation events and competitions