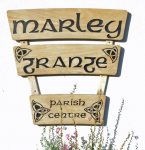 Driving Directions to Marlay Grange Parish Centre
Marlay Parish Centre, 25/27 Hermitage Downs, Rathfarnham, Dublin 16.  D16 V3P1
If you are coming from Terenure/Rathfarnham Village you
Follow Rathfarnham Road and take right turn at traffic lights onto Grange Road after"The Yellow House" public house opposite the Church].
Go to the top of this part of Grange Road past  St Enda's Park on your right side and
At  t-junction with Taylor's Lane  take left turn (traffic lights).  You are still on Grange Road.
Past Eden Public House (Marlay Park is  on right)and at the traffic lights turn left onto Highfield Avenue and follow directions as below**for walking from Grange Road


---
 If you are coming from M50 Ballinteer Exit (Junction 13) you
 Go left onto Brehon Field Road (signs for Ballinteer/Rathfarnham) and drive onto Grange Road. (St John's GAA Club will be on your left at 3rd set of traffic lights)
After Lidl Supermarket take the second turn right at the traffic lights onto Highfield Avenue and follow directions as below**for walking from Grange Road


---
If you are coming  from Dundrum Bridge you
Follow Dundrum By-Pass,
At roundabout go right onto Wyckham Way and
at 2nd roundabout go right onto Ballinteer Avenue
At top of Ballinteer Avenue(2kms)turn right onto Grange Road.  Past St John's GAA and Marley Park on your left
After Lidl Supermarket take second turn right at the traffic lights onto Highfield Avenue and follow directions as below**for walking from Grange Road


---
**Driving/Walking directions from the Grange Road(16 bus route) to Marley Grange Parish Centre.
Enter the Marley Grange Estate at the traffic lights almost opposite the main entrance to Marlay Park.
Follow the white lines on the bends/corners to stay on the main road into the estate.  Continue until you come to bollards, an excuse for a roundabout. Here turn right into Marley Avenue and continue straight for almost fifty yards.
Take the first (and only) turn left, pass the Primary School on the right and turn right into the church car park. The centre is behind the church to the right.
The car park remains open during our Meeting.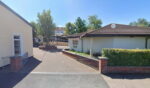 Parish Centre entrance