For up-to-date News from National and Dublin Federation (click here)

Congratulations to

Patsy Mitchell, our new President

 2019-2020
Breda Ahern will be Vice-Pres. and              Claire Magee, our new Secretary.
                                        Preliminary Report back from this year's AGM. The Meeting ended in postponement. New date 25th November 2019. (Guild Voting Delegate was Rachel Gillen)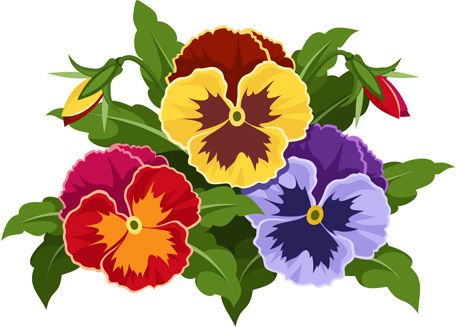 Annual Invitation from Helen Morrow (Guild Yoga Instructor) .Helen is facilitating outdoor simple yoga in MARLAY AND ST ENDA'S PARKS (main carparks are meeting places both venues) on Monday  and Tuesday mornings this June and July. Starting date 10 June at Marley at 10.15am sharp .     If late the company will be in either of the wall gardens.
All ICA guild members , their family and friends are most welcome.  Keep morning free, class lasts 1 -1/2 hours, with option for coffee afterwards.  You can leave early if necessary,
Wear comfy clothes and shoes, prepare for all weathers, bring raincoat and sunhat, glasses and sun screen and a plastic bag with something in it to make a seat. No mat required. Cost? voluntary contribution for charity – (and own coffee money)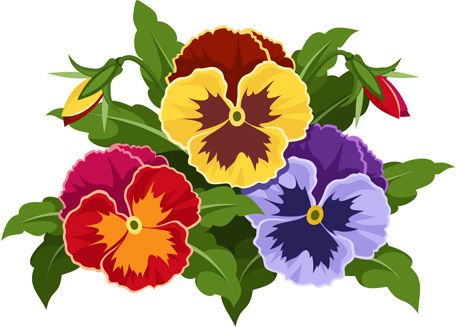 This year the Mary Clarke Trophy was awarded  to Rachel Gillen.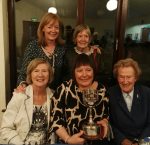 Rachel wrote and essay on "Your Favourite Irish Heroine of the last 100 years". Her favourite heroine was Katy Taylor the boxing sportsperson.
Also at our Meeting on 25th MAY  we were delighted that "Beezie"A  Comic One Woman Drama  by Sheila Flitton was preformed for us ( the Humours and Trials of Beezie's Life Story).    It was presented in Bewley's Cafe Theatre earlier this year and awarded 5 Stars by critics and theatre goers alike.                                                                                             
Our AGM 2019 was held on

May 9.

   SALLY ANN FLANAGAN, Personal Stylist at House of Fraser made a popular return to  the Guild for an evening of fashion, beauty and fun following our business Meeting.  
Our

ANNUAL OUTING

was held on Sat. 13th April to                          
Yesterday we had the privilege of heading North to tour Seamus Heaney Country on the exact date of his 80th Birthday!  We were blessed with a dry, energising day.  Setting out punctually at 8.30 a.m., leaving Marlay in our new 191 bus, we headed North, via Newry and from there we journeyed to Armagh  , where we stopped for a welcomed cup of tea/coffee and scones.
Armagh seemed a most interesting place and it whetted our appetites for a return visit in the future.  Travelling through the towns of Dungannon and Cookstown, we then arrived in Magherafelt where we stopped to collect our accredited Seamus Heaney specialist guide, Eugene Kielt.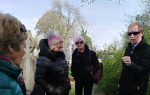 Together with his wife, Eugene runs a five star guesthouse in Magherafelt. He told us that Aidrian Dunbar (currently starring in "Line of Duty") was staying there with them that very night!
We proceeded to Castledawson, where Seamus spent his childhood and attended school.  We saw the Catholic Church there which was the first church to be constructed after the Ulster Plantation. It was built one mile outside the town.
Opposite this church is a football pitch where Seamus's uncle, a famous footballer played.  Seamus, himself, was good at everything except football, but he wrote the poem "The Point" to commemorate his uncle's expertise. Our guide then played that poem for us, narrated by Seamus Heaney himself.  As we progressed on our journey, stopping at various places of significance in the writings, Eugene, our guide, explained and played the following poems for us:
Dan Taggart.        Clearances.           A Constable Calls.         Electric Light.  In the Attic.  To Mick Joyce in Heaven.   Markings.           Mid-term Break.   The Forge.  Digging.    Out of the Bag.   Mossbawn Sunlight.
During our travels we passed the demesne which was previously owned by Major Chichester Clarke in Myola Park, Castledawson. We also saw the derelict buildings which once housed the linen workers.
The linen mill was owned by the Clarke family and we were informed that they were good employers.
Our visit to Seamus Heaney's grave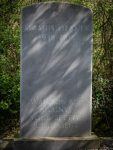 was a moving experience.  Seamus is interred in a little enclave in the graveyard very close to where his parents and his younger brother, Christopher (as referred to in the poem "Mid-term Break") are resting.
The tombstone simply reads: 
SEAMUS HEANEY
1939-2013
The inscription on the bottom of Seamus's tombstone is quite thought-provoking "Walk on air against your better judgement"After paying our respects to the Heaney Family, we proceeded to the Heaney's Home-Place and Exhibition Centre. It is a fascinating place to visit. We saw the actual pen which Seamus Heaney held which inspired his poem "Digging."  There are many examples of Seamus's handwritten poems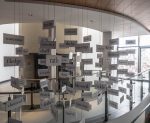 on display there, together with numerous books and artefacts from the past.  The Centre is very well appointed, being bright, spacious and there is a lovely viewing bay from which you can view part of the surrounding countryside which inspired our great writer.
The Centre also has a cafe!
We reluctantly had to leave this inspiring Centre and start on our homeward bound journey via Belfast. Our final call was to the Valley Inn at Dunleer where we enjoyed a delicious dinner before resuming our journey.
Sincere thanks to Rachel, our President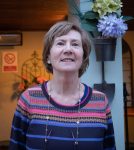 and our Committee for organising such a wonderfully enjoyable day.
ARMAGH'S HISTORIC MALL (in the background not me!!)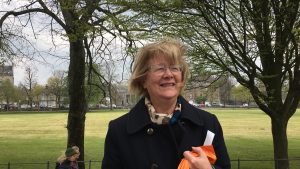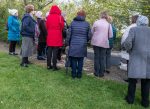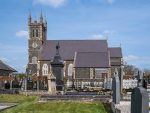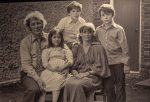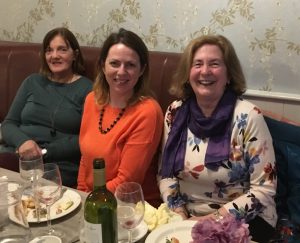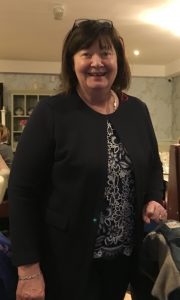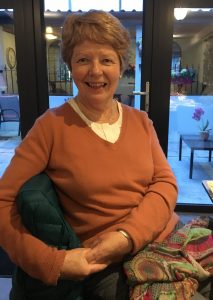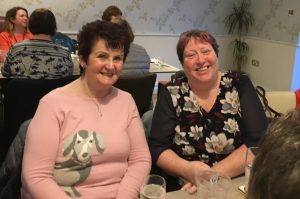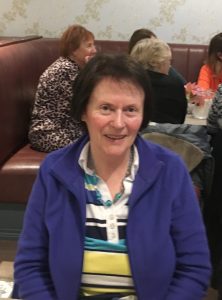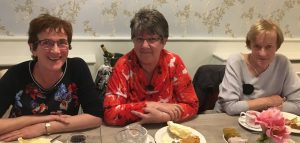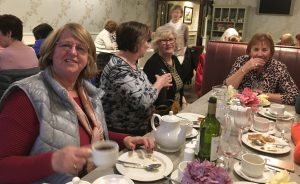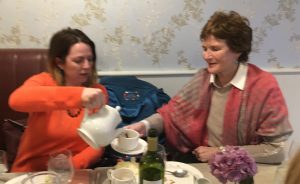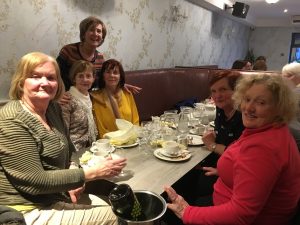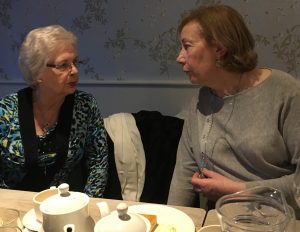 ***********************************************************************
On THU

RSDAY 11TH APRIL 2019.